On Thursday the 7th of February 2017, there was a huge party at a hip new restaurant on the Exhibition Grounds in Toronto. Everyone gathered at Acqua Dolce to commemorate the launch of Laura's new book, Single in the City: From Hookups and Heartbreaks to Love & Lifemates, Tales and Tips to Attract Your Perfect Match, and Sweets Canada was there too. Can you spot our CEO Sam Dhutia in the photo below – hint – he's wearing a cream suit and standing at the back in the very center of the picture.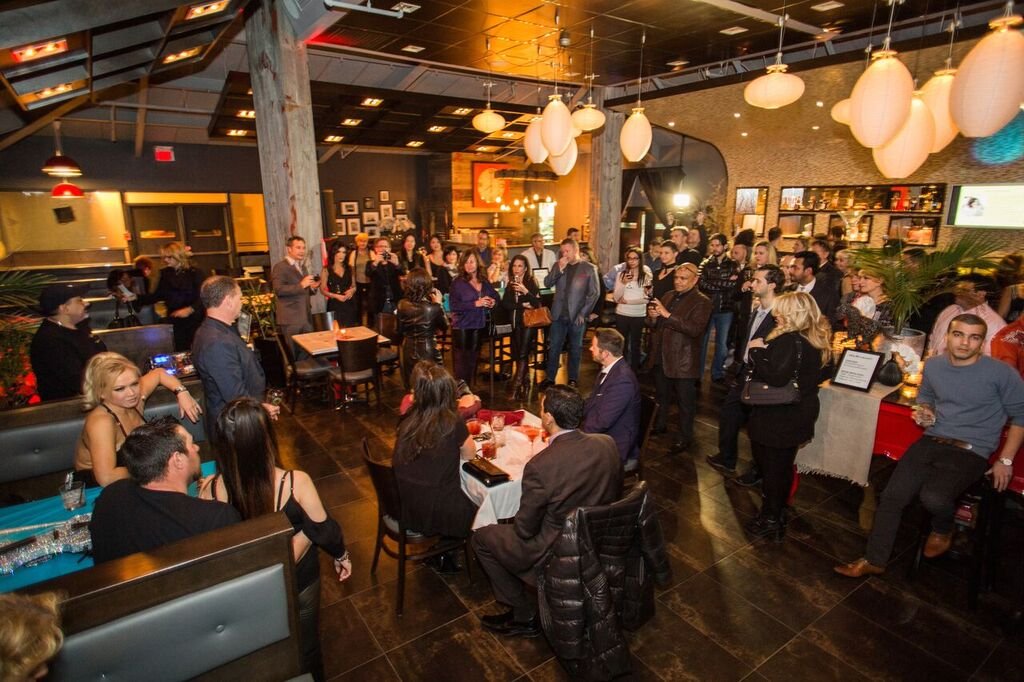 Our gourmet chocolate bars were just one of the many delicious attractions that evening; Sweets Canada was thrilled to play a small part in the big production by happily donating our chocolate mustache swizzle sticks to the gift bags. See photo of gift bag contents at the end of the article.
Rob forget  his last name because he's known to me as  DJ Xitmint, a professional DJ in Toronto was one of the first official helpers to arrive (there were some unofficial helpers earlier) and he told us that although he's only known Laura for a short while, he was liking the good vibrations and synergies she presents now and hopefully in the future (as her star continues to rise). Rob brought a big crew and his table was where a lot of the celebrities and VIPs gathered that evening.


DJ Xitmint's team shared their sound system and microphones with a talented female performer who played an electric violin and was awesome Elena, electric violin musician is an A-List performer living among us – she is so talented OMG! While we watched , amazed, she would play along with DJ Xitmint live on her fiddle and it was impossible not to be moved – from the moment she started to play, the party really started jumping.
Elena is a friend of Patrick, Laura's cohost on the Roger's TV show Single in the City. There were many other minor celebrities there including Valerie Gibson, relationship expert and author of Cougar: A Guide for Older Women Dating Younger and Men and The Later Dater. Laura also got advice and positive feedback on her book from other local heroes, including some notable and downright handsome men.
Here's Howard Berger from a Maple Leafs hockey blog, Between the Posts ca and Joel Levy interior photographer Toronto who took almost all of the photos on the in official dispatch about the book launch posted on Single in the City blog just after the event – that was his contribution as friend of Laura Bilotta,
Below is the ever eloquent Mr. Samson from the mighty Mango Tree Studios event photo booth Toronto, a high quality memory-making service for the masses and perfect for just about any live event theme occasion. Samson and his fiance were an important addition the media team on the scene at Acqua Dolce that evening.
Everyone was there to congratulate Laura on her grand achievement and we were especially proud. We know perhaps more than any of the other guests that its real hard to get listed in Amazon!  There were so many small and medium sized business contributors; just look here at the contents of the gift bags!
Single in the City gift bag was absolutely stuffed full of sponsor goodies. See the Sweets Canada chocolate mustache swizzle stick? That's how we roll.Save
Save